Our team of experienced dental practitioners have a collaborative approach to your Oral Health needs
Dentist
Dr.Tiffany Logan BDS (Otago) DipClin Dent (Perio)
I am happy to say I grew up in rural NZ.
I enjoyed my education mainly, but Otago University really has cemented my love of my occupation. I graduated in 1987 from the school of dentistry with my Dental degree then went back to do a Clinical Diploma in Periodontal Diseases.
I have played a role in the NZ Dental Association and still run a Graduate program.
I have had many years in the Defence Force and now own my practice.
Dentist
Dr.Helen Gibbons BDS (Otago)
Dr Helen Gibbons has a BDS and BSc in Microbiology. She graduated from the University of Otago in 1985.
Her interests include treatment planning for older patients, taking an holistic approach to the treatment of dental disease and carrying out minimally invasive treatments. Helen's end goal is to empower patients to take responsibility for their own oral health.
She attends a monthly study group and joins NZDA and other industry seminars to keep abreast of the new techniques, technologies and treatments available in dentistry.
Dentist
Dr.Gurpinder Singh
Dr Gurpinder Singh graduated with a Bachelor of Dentistry in 2003. After leaving dentistry overseas, Gurpinder began working in dentistry in New Zealand, and has been working in the Wellington region for the past 10 years.
Gurpinder enjoys all aspects of dentistry with a special interest in CAD/CAM dentistry. By attending regular dental conferences, Gurpinder keeps up to date with advances in dental technology.
When not working Gurpinder loves to travel and explore New Zealand's wonderful hotspots.
Dentist
Dr.Andy Wong
Andy Wong graduated from the University of Otago with a Bachelor of Dental Surgery in 2010 and he completed his Fellowship in General Dental Practice with the Royal Australasian College of Dental Surgeons in 2017. His areas of interest in dentistry include: oral surgery, maxillofacial surgery and oral medicine.
When Andy is not working as a dentist, he is at medical school completing his Bachelor of Medicine, Bachelor of Surgery with the University of Otago Wellington.
Dentist
Dr.Lucy McGowan BDS (Liverpool)
From a young age I have always had a keen interest in dentistry. I began working at my mum's dental practice in Ireland as a Dental Assistant at the age of 16, which lead me to choosing dentistry as a career. In 2015 I graduated from Liverpool University Dental Hospital with a Bachelor of Dental Surgery with distinction.
Since then I have enjoyed working in London in both the National Health System and in Private Dental Practice, gaining experience in all aspects of general dentistry. During this time I also studied for a Diploma of the Membership of the Joint Dental Faculties at The Royal College of Surgeons, London.
At the start of 2018 I made the leap to beautiful New Zealand and have since been based in Wellington. I love meeting lots of new patients, and especially helping put anxious patients at ease.
Oral Health Therapist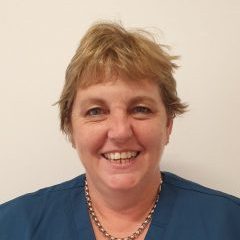 Yvonne Symons
Yvonne graduated from University of Otago with a Bachelor of Oral Health. Yvonne's background is rural and medical with more than 30 years of working in the public sector.
Yvonne wants to see her patients in good health and enjoys working with them to help them obtain good oral health. She believes that a healthy mouth leads to a healthy body. Yvonne has a special interest in patients with dental anxiety and those involved in sport.
When Yvonne is not working, she can be found working on her lifestyle block in the Wairarapa with her her husband, dog, and alpacas.
Dental Assistant
Dental Assistant
Practice Manager
Front Office Coordinator
Front Office Coordinator
Proudly a part of the
New Zealand Dental Association